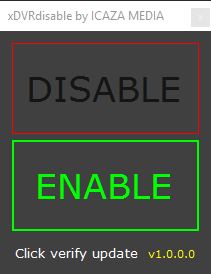 Download http://veydunet.com?download=1424
Users experiencing low FPS or FPS loss after upgrading to Windows 10 may resolve the issue by disabling the Xbox DVR feature.
Turn off Xbox DVR through the Registry Editor with xDVRdisable.
What are the changes made by the software ?
Modify registry key HKEY_CURRENT_USER\System\GameConfigStore
Set the value of DWORD "GameDVR_Enabled" to 0 or 1.
Modify registry key HKEY_LOCAL_MACHINE\SOFTWARE\Policies\Microsoft\Windows\
Create key "GameDVR".
Create or Delete DWORD 32bit called "AllowGameDVR" and set to 0.
Français
Les utilisateurs ayant subis un faible FPS ou une perte de FPS après la mise à niveau vers Windows 10 peuvent résoudre le problème en désactivant la fonction Xbox DVR.
Éteignez Xbox DVR via l'éditeur de registre avec xDVRdisable.